iCricketer.com NewsDesk
Jayawardene savours new record
COLOMBO: Sri Lanka captain Mahela Jayawardene was in jubilant mood after eclipsing the world Test partnership record with his pal Kumar Sangakkara in Colombo.
"It was a fantastic feeling," he said of the phenomenal third-wicket stand of 624 against South Africa, spanning five sessions, 663 minutes and 950 balls.
"Kumar and I are very good friends on and off the field and I am privileged to be involved in this with him."
Sangakkara added: "It's a great feeling to do things that no-one has done."
Crowds grew steadily as news of the impending record spread around the Colombo region, and when it arrived courtesy of four leg-byes it was greeted by firecrackers.
Jayawardene passed Sanath Jayasuriya's 340 to record the highest score by a Sri Lankan batsman.
He fell short of Brian Lara's world record 400, posting the fourth-highest individual Test score of 374.
Sri Lanka coach Tom Moody, however, believes his captain will have another realistic chance of eclipsing Lara's landmark and said: "These guys have a lot of cricket left in them, they may have another day."
Jayawardene insisted that there was no talk of records when the pair resumed on Saturday at 485-2.
"When we went out to bat today the focus was on pressing home the advantage and not records," he said.
"We thought we will bat until lunch and then decide. We never had any individual targets but we are happy with what we have achieved. However, the important thing is the team's position."
Sangakkara admitted to twinges of regret that he was dimissed 13 short of a triple century.
"I cannot in anyway be disappointed," he said. "How can you be after you have scored 287? But having said that, I must admit I was looking to get to 300.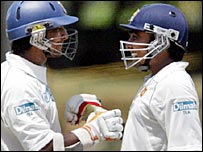 "As for the record, I can recall following it as a schoolboy when the two greats of that time Sanath Jayasuriya and Roshan Mahanama established it. It is a good feeling to be able to pass that record.
"I must add that it was a great privilege to bat alongside Mahela Jayawardene, who was always marked down for greatness.
"But let's not forget that records are there to be broken and our record will be broken some day."