iCricketer.com NewsDesk
As a batsman, Youhana is still the same Yousuf! <![if !vml]>
<![endif]>
Rashid Latif Former Pakistan cricket captain

So the Lordís Test was drawn and Pakistan had Mohammad Yousufís batting to thank for that. Without his wonderful double century in the first innings, they would probably have had to follow on and then might have lost the match.

But, in my opinion, itís rubbish that he has suddenly become a better player since converting from Christianity to Islam. Cricket is about cricket, not religion, and as a batsman he is still the same Yousuf as he was before.

He loves getting big scores, has a brilliant record against India and England, and when pitches are flat and bowlers are struggling to make things happen he comes into his own.

Now itís time to think about next weekís second Test and if I was selecting the Pakistan team I would have Shahid Afridi opening the batting.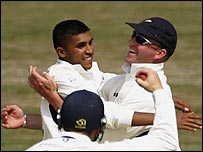 My thinking is that Pakistan would be better off with one right-handed batsman and one left-handed batsman at the top of the order, rather than the two lefties they had at Lordís.

Afridi is dangerous because at the start of an innings all the fielders are in the slips and the covers and he can hit the new ball hard like the Indian opener Virender Sehwag.

His partner would be one of the two left-handers we saw at Lordís ó Salman Butt or Imran Farhat, whichever one is more confident ó and then the fit-again Younis Khan would play at three.

Four (Yousuf) and five (Inzamam) stay the same, with Faisal Iqbal (number three at Lordís) dropping down to six.

As for England, I cannot really understand why they donít have more grass on the wickets for the Test matches.

On a flat track Pakistan are very dangerous. They can score big runs and then utilise reverse swing and spin ó thatís why they are thinking of adding another spinner, Mushtaq Ahmed, to the side.

England should go for a green track ó not like a garden, but one that is a bit lively for the first two days. If the team batting first hits 500 or 600 in the first innings, the match will quite often end in a draw.

But if itís 300 then itís much more likely there will be a result. Pakistan have had problems in green conditions in the past, and with no Shoaib Akhtar they wouldnít have their best bowler to exploit the situation.

On the other hand, Mushtaq and Danish Kaneria on a flat or turning wicket would give Pakistan a good chance of winning the series.

They would also have a third leg-spinner, Afridi, available to bowl some overs at the end of each session, and England could struggle.

I certainly hope the Pakistan fielding improves at Old Trafford. The dropped catches at Lordís were inexcusable.

Pakistan and Indian players have always been more concerned with batting and bowling and thatís why we have had problems with fielding in the past.

But you certainly cannot blame the background at Lordís ó Iíve played there twice before ó or the pressure of the big occasion. You have to perform your best for your country.